For many micro and small businesses, information technology (IT) infrastructure, end-user systems, and data insights are becoming an increasingly important part of their operations. But what happens when you don't have the access to or knowledge of tools and techniques that you need in this business environment? You may miss out on chances to develop and improve your business if you can't close your IT Knowledge Gap.
When you operate a small business, it's all too easy to be distracted by other tasks and forget about IT. This is where a lot of businesses fall short. They don't have the right IT infrastructure in place to support their security and efficiency needs. This can lead to a lot of wasted time and money, as well as a lack of security for their business data.
In this article we'll discuss some of the key IT knowledge and skills gaps that can impact smaller businesses in a big data-centric world. We'll also give you some pointers on how to close those gaps and stay competitive in your field of business without worrying about setting up IT systems that can be difficult to understand.
Definition Time: IT Skills Gap vs IT Knowledge Gap?
IT knowledge gaps refer to the lack of understanding or awareness about a certain IT-related topic. This can be anything from not knowing how to use basic IT applications to having little understanding of complex IT systems. This might involve not understanding how certain software programs work or not being familiar with best practices for managing data.
IT skills, on the other hand, refer to the ability to use IT applications and systems effectively, specifically, this can include everything from using software programs to understanding how to troubleshoot issues with computer networks. 
While IT skills can be helpful in many businesses, they are not always essential. In fact, many businesses operate fine without any IT skills. However, as technology becomes increasingly integral to the way we do business, the need for IT skills is likely to become more prevalent. 
Fortunately, we are here to help you bridge the gap between your current IT knowledge and the IT skills you need to succeed in today's business world with a few different ideas.
Current State Of The IT Gap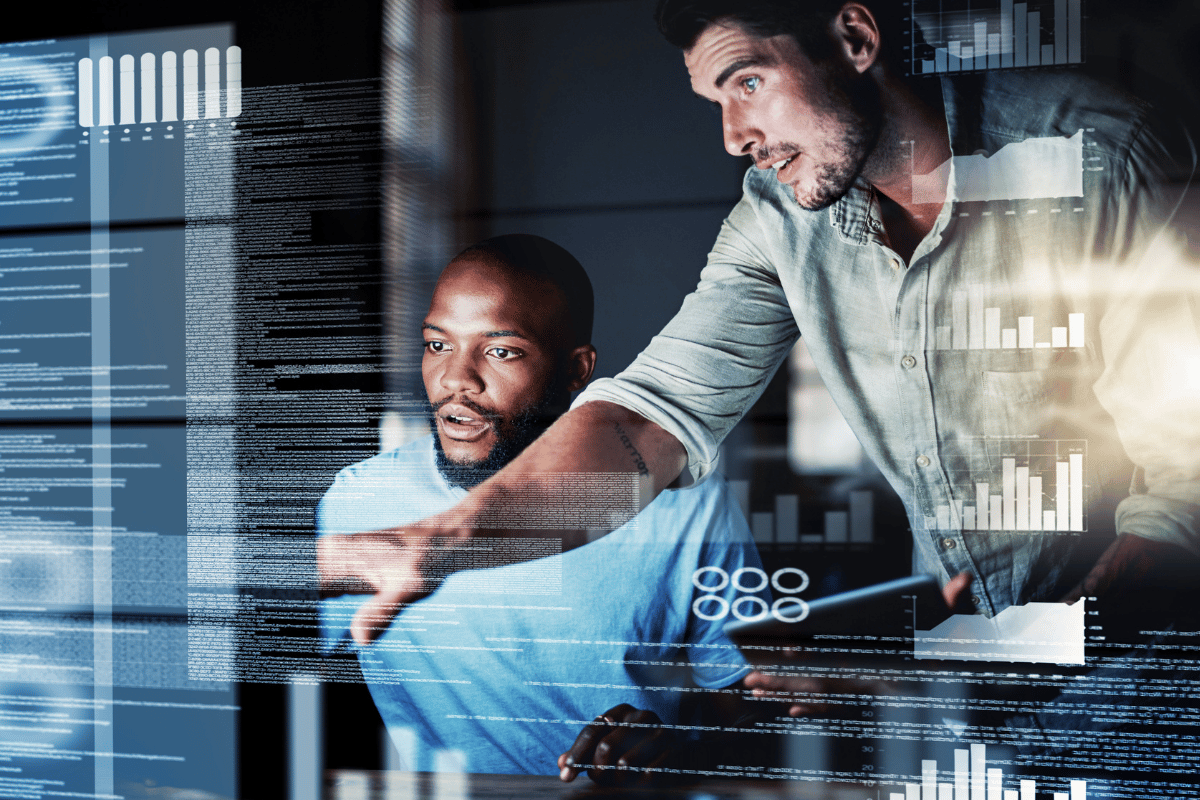 There are few main issues affecting the IT knowledge gap these days. For businesses, this can create a skills gap between what they need and what their employees can provide.
Rapidly Changing Technology Widens the Gap
With new technologies and paradigms emerging all the time, it can be hard for professionals to keep up. This is particularly true for those who are not already well-versed in technology.
In a survey of small and medium-sized businesses, 51% indicated that their IT skills gap was widening due to rapidly changing technology. Another study finds that 75% of organizations believe that the skills shortage among applicants is a primary cause for the difficulty in hiring. This can lead to expensive consequences for businesses, such as increased training costs or even potential data breaches caused by not having the right security measures in place. 
Cybersecurity is an Ever-Increasing Issue
The number of cybersecurity attacks is rising, making it essential for businesses to have employees who can protect their systems from these threats. As a result of the IT knowledge gap in most companies, many businesses are being forced to prioritize security to stay competitive.
One of the most pressing issues facing businesses today is the lack of employee education on cybersecurity. According to a study by PWC, almost 60% of businesses have experienced a data breach in the past two years, and 43% of those breaches were caused by malicious or criminal attacks. In another study, it was found that almost half of all businesses don't have any kind of cybersecurity training program in place.
Unfortunately, stories like this one from an Arkansas-based telemarketing firm are becoming the norm.
It's the holidays, but for 300 workers of a company in the US, it's anything but festive. That's because the company has just shut down after being hit with ransomware, leaving its employees without jobs and facing an uncertain future.
The ransomware attack, which happened just a few days before Christmas, completely crippled the company's systems. Not only did this mean that the employees lost their jobs, it also meant that the company was unable to provide any customer service or support during the holiday season.
This lack of cybersecurity education is a major issue, as it leaves businesses vulnerable to cyberattacks. In fact, a recent study by Verizon found that 81% of data breaches occur due to human error. This means that if employees are properly educated on cybersecurity best practices, businesses can greatly reduce their risk of being attacked.
Automation and AI is affecting the Gap
Another trend affecting the IT skills gap is the increasing use of automation and artificial intelligence. These newer and more complex technologies require updated skill sets from the IT personnel managing them. . This means that there will be even more demand for workers with higher IT skill sets in the future, as businesses will need these employees to maintain and operate their automated systems.
Pressure to innovate widens the IT knowledge gap.
As businesses increasingly rely on technology to gain a competitive edge, the pressure to innovate is higher than ever. Unfortunately, this pressure has led to a widening skills gap. While there is a growing demand for workers with cutting-edge skills, the supply of qualified workers has failed to keep pace. 
The Importance of Overcoming IT Barriers To Guarantee Business Success
IT knowledge and skills gaps can put your business at a disadvantage, as you will not be able to exploit opportunities that can help you grow. As a result, you are missing out on opportunities to increase revenue, decrease costs, and improve operations.
For example, let's say you want your current pool of clients to have a meaningful and positive experience by improving your customer service. But you don't have the technical know-how to do so. You won't be able to take advantage of benefits like these unless you narrow the IT knowledge and skills gaps within your business.
The following are just a few of the unforeseen business liabilities of the IT skills and knowledge gap:
Difficulty in making business decisions
When businesses don't have access to data insights due to inadequate IT systems, they can struggle to make informed decisions. This can lead to wasted time and resources and missed opportunities. 
Having an IT knowledge or skills gap can also lead to lower productivity. This is because employees without the necessary skills will take longer to complete tasks or may not be able to complete them. This can be especially problematic if your business relies on outdated or inaccurate information. 
Hiring specialists to cover IT gaps can be expensive. Not to mention the costs associated with the gaps themselves. All these costs can add up, eating into your bottom line and preventing you from investing in other areas of your business. 
Let's have a discussion about your IT Gaps and how it's affecting your business…
Ways to Close your IT Knowledge Gaps
1. Get an Idea of the Size of the Gap
To move forward it is essential first to understand the knowledge and skills gaps that exist within your organization. Without this understanding, it would be difficult to know where to focus time and resources. There are a few different ways to get an idea of how big of an information technology knowledge gap your company has.
One way is to have all employees take a quiz or assessment to gauge their familiarity with technology and the internet. Another way is to ask employees to complete a survey about their comfort and use of various technologies. 
An alternative option is to use focus groups. This technique allows for a more in-depth exploration of employee attitudes and perceptions. However, focus groups require careful planning and typically must be conducted by an experienced facilitator. 
You can also review how your company's technology stacks up against others in your industry. By identifying any gaps in knowledge, you can then create a plan for training and development to close those gaps and ensure that all employees have the necessary skills to thrive in a technology-driven world.
Another option is to analyze customer feedback data. This can give insights into areas where the customer experience could be improved through technology. 
Finally, companies can also review data from previous projects to see where improvements could be made in the future. By taking some time to perform a gap analysis, companies can set themselves up for success as now is the time to close your IT knowledge gap.
2. Upskill Your Way To Success
To keep up with the competition and be successful in today's business world, you can upskill yourself and your employees in information technology. There are many ways to do this, and the options available to you will depend on your specific circumstances.
Take online courses
A great way to upskill yourself or your employees in information technology is to take online courses. There are a variety of free and paid courses available, and each one can help you learn about a specific topic or skill. Taking online courses is a great way to learn at your own pace and in your own time.
Get Certified
One of the best ways to upskill yourself or your employees in information technology is to get certified. There are a variety of IT certification programs available, such as the Certified Information Systems Security Professional (CISSP) or the Certified Ethical Hacker (CEH). These programs will help to ensure that you or your employees have the necessary skills to work seamlessly with technology.
Attend conferences and seminars
Attending conferences and seminars is another good way to upskill yourself or your team in information technology. These events provide an opportunity to learn from experts in the field, network with other professionals, and stay up-to-date on the latest trends and technologies.
Read industry/trade publications
A few key sources can help you stay current on the latest IT news and developments. By subscribing to industry-leading publications and following top thought leaders on social media, you can quickly and easily stay up-to-date on the latest IT trends.
By reading trade publications or blogs, attending conferences, or taking online courses, you can ensure that you are up-to-date on the latest information. Additionally, following thought leaders on social media can help you stay abreast of changes in the industry.
3. Hire Qualified IT Professionals
Did you know that every business faces awareness and skills issues? Most try to fill these gaps by hiring more staff, but this solution can be ineffective. 
A company's ability to execute its strategy hinges on many things, but one of the most important is having the right people in place with the right skills. In today's business environment, that means having a team that is not only up-to-date on the latest technology trends but also has a deep understanding of how to apply those technologies to achieve specific business objectives.
But employers are finding it difficult to fill positions with qualified candidates, and this is especially true in the IT industry. There are several reasons for this.
As any CIO will tell you, it can be difficult to find and retain talented IT professionals with the technical know-how and business acumen needed to succeed in today's digital economy. 
The demand for IT skills is high, and as such the supply of IT professionals is limited. The United States has a shortage of workers with the necessary skills to fill these jobs. One option is to hire workers from other countries, but that comes with it's own potential issues. In addition, hiring highly skilled knowledge workers always comes with a hefty price tag. 
These challenges are compounded by the fact that the skills required for success in IT are constantly evolving as new technologies emerge and old ones become obsolete. As a result, even the most talented IT team can find itself at a disadvantage if some business isn't proactive about keeping up with the latest trends and developments.
4. Outsource your IT Needs
The secret to success in every company is to understand your assets and use them. In today's business world, having a firm grasp of information technology is more important than ever. However, many business owners and employees lack the technical skills to keep up with the ever-changing IT landscape.
This can lead to big problems down the road, as businesses that don't keep up with the latest IT trends can quickly fall behind their competitors and not be able to close their IT knowledge gap.
To avoid these potential problems, businesses need to seek advice from IT experts who can help them close the IT knowledge gaps in their organizations. These experts can guide various topics, including selecting and implementing the right software and hardware, developing effective backup and disaster recovery plans, and protecting against cyber threats.
Luckily, there are plenty of experts out there who can help businesses close their IT knowledge gaps. By focusing on what they do best and leaving IT to the experts, businesses can stay ahead of the curve and competitive, ensuring that they are using technology most efficiently and effectively. This can help them save time and money while also reducing the risk of costly disruptions.
This solution can provide peace of mind and allow you to focus on what truly matters for your business – serving customers and driving growth.
Businesses need access to the right tools and techniques in order to be successful in today's competitive environment. Unfortunately, many businesses are struggling because they don't have the knowledge or resources they need to overcome IT barriers. Fortunately, there are ways to close the gaps and get the help you need. From upskilling to outsourcing your IT needs, it's important to not waste time focusing on closing your IT gap.
ANAX Tech: The Ideal MSP for Micro and Small Business
As a Managed Service Provider, we take on the responsibility of managing and monitoring your IT infrastructure so that you can focus on running your business. 
Every business is different and has different needs when it comes to technology. That's why we offer a customized approach for each of our clients. We'll work with you to understand your business goals and objectives. Accordingly, we develop a plan to help you meet those goals using the latest technology and digital transformation tools. We manage the network, infrastructure, security, support services, cloud services, and malware protection.
If you're interested in enhancing your business by overcoming IT knowledge gaps, contact us to learn more about our MSP Services
Follow Us!